Women Psychoanalysts in Greece

Athina Alexandris
The Greek paediatrician, psychiatrist and psychoanalyst Athina (Athéna) Alexandris received her psychiatric and psychoanalytic training in Montreal in Canada. In the 1960s, she worked as a child psychiatrist at the Institute Albert-Prévost in Montreal. After the fall of the Greek junta in 1974, she settled in Athens, where she was involved in an attempt to establish a psychoanalytic study group in Greece. When this effort failed in 1975, she and her colleague Panagiotis Sakellaropoulos founded the Greek Society for Psychoanalytic Psychotherapy two years later.
Finally, in 1981, a psychoanalytic study group was founded by Athina Alexandris, Peter Hartocollis, Panagiotis Sakellaropoulos, Anna Potamianou and Stavroula Beratis. The Hellenic Psychoanalytic Study Group gained formal recognition by the International Psychoanalytical Association (IPA) in 1982 and became an IPA member society in 2001. In 1987, however, it came to a split. The reason was that Alexandris and Sakellaropoulos claimed to be considered as training analysts without fulfilling the requirements oft the IPA standards. Athina Alexandris resigned from the Study Group and concentrated on the training of therapists in the Society of Psychoanalytic Psychotherapy.
Most of Athina Alexandris' writings deal with fundamental topics such as guilt, the unconscious, supervision, violence, and the role of presence in psychoanalysis and in life. In her recently published book on the death instinct and its various disguises (2015), she based her discussion on Melanie Klein's concept.
SELECTED WORKS
Ψυχαναλυση: Βια σε εποπτειες, σε παιδια, εφηβους και ενηλικες. Athen 2008 [Psychoanalysis: Violence in Children, Adolescents, Adults and Supervision. Athen 2008]
Ψυχαναλυση: Το ασυνειδητο. Athen 2011 [Psychoanalysis: The Unconscious. Athen 2012]
Ψυχαναλυση: Η ενοχη [Psychoanalysis: Guilt]. Athen 2013
Ψυχαναλυση: Η εποπτεια [Psychoanalysis: Supervision]. Athen 2013
Ψυχαναλυση: Η παρουσια [Psychoanalysis: Presence]. Athen 2014
Ψυχαναλυση: Το ενστικτο θανατου. "Μεταμφιεση" [Psychoanalysis: The Death Instinct. "Masquerades"]. Athen 2015
(and Grigoris Vaslamatzis) (eds) Countertransference. Theory, Technique, Teaching. London 1993


REFERENCES
Bossé, Jean: Présence de la psychanalyse à la clinique de l'enfance et de l'adolescence du Pavillon Albert-Prévost de l'Hôpital du Sacré-Coeur ou une expérience de pratique psychanalytique institutionnelle. Filigrane 10 (1), 2001 (2015-08-06)
Kontos, Jannis, et al.: Greece. In Psychoanalysis International, Vol. 2: America, Asia, Australia. Further European Countries. Stuttgart-Bad Cannstatt 1995, 288-306
Potamianou, Anna: Grèce. In Dictionnaire international de la psychanalyse (2002). Ed. by A. de Mijolla. Paris 2005, 733f [International Dictionary of Psychoanalysis. Detroit u. a. 2005, 700-701]

Stavroula Beratis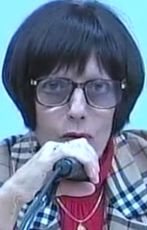 Stavroula (Avra) Beratis graduated as a doctor from the Medical School at Athens University and did her residency in psychiatry in New York. Subsequently, she worked as an assistant professor at Albert Einstein College of Medicine in New York. She underwent psychoanalytic training at the New York Psychoanalytic Institute and became a member of the New York Psychoanalytic Society and Institute and of the American Psychoanalytic Association.
In 1981 Stavroula Beratis founded in Athens - along with Anna Potamianou, Peter Hartocollis, Athéna Alexandris and Panagiotis Sakellaropoulos - the Hellenic Psychoanalytic Study Group, later the Ελληνικη Ψυχαναλυτικη Εταιρεια (ΕΨΕ) [Hellenic Psychoanalytical Society], recognised as a component society by the International Psychoanalytical Association in 2001.
Stavroula Beratis is a training and supervising analyst and a former president of the Hellenic Psychoanalytical Society ΕΨΕ. She is Professor Emeritus of Psychiatry, Child and Adolescent Psychiatry and Psychoanalysis at the Medical School of the University of Patras. Her publications deal with subjects such as mental problems of thalassaemic children, suicidal attempts and suicides in Greek adolescents, depressive reactions, and the prodromal phase of schizophrenia.
SELECTED WORKS (for more see ΕΨΕ)
The first analytic dream: Mirror of the patient's neurotic conflicts and subsequent analytic process. IJP 65, 1984, 461-469
The personal myth as a defense against internal primitive aggression. IJP 69, 1988, 475-482
Suicidal attempts and suicides in Greek adolescents. In D. Papadatou and C. J. Papadatos (eds): Children and Death. New York 1991, 77-84
Suicide among adolescents in Greece. British Journal of Psychiatry 159, 1991, 515-519
Psychosocial status in pre-adolescent children with ß-thalassaemia. Journal of Psychosomatic Research 37 (3), 1993, 271-279
Psychosocial stressor in the conversion of subsyndromal depression to seasonal mood disorder. European Journal of Psychiatry 10 (2), 1996, 118-122
The quantitative factor in the transformations observed during the psychoanalytic process. Psicoanalisi 10 (2), 2006 + pdf
(et al.) Development of a child with long-lasting deprivation of oral feeding. J Am Acad Child Psychiatry 20 (1), 1981, 53-64
(with Joanna Gabriel and Stavros Hoidas) Age at onset in subtypes of schizophrenic disorders. Schizophrenia Bulletin 20 (2), 1994, 287-296
(and Spyridoula Labropoulou) Psychosocial adjustment of thalassaemic children's siblings. Journal of Psychosomatic Research 39 (7), 1995, 911-919
(and Joanna Gabriel) Early trauma in the development of masochism and depression. Int Forum Psychoanal 6, 1997, 231-236
(et al.) Symptomatology of the initial prodromal phase in schizophrenia. Schizophrenia Bulletin 28 (3), 2002, 415-429
(et al.) Major depression and risk of depressive symptomatology associated with short-term and low-dose interferon-alpha treatment. Journal of Psychosomatic Research 58 (1), 2005, 15-18
(et al.) Suicidality in the "prodromal" phase of schizophrenia. Comprehensive Psychiatry 52 (5), 2011, 479-485
(with Savvas Savvopoulos and Sotiris Manolopoulos) Repression and splitting in the psychoanalytic process. IJP 92, 2011, 75-96
(and Ioannis Vartzopoulos) Bodily manifestations in the psychoanalytic process. Psa Quart 81 (3), 2012, 657-681
(with Anastasia Stathopoulou and Ion N. Beratis) Prenatal tobacco smoke exposure, risk of schizophrenia, and severity of positive/negative symptoms. Schizophrenia Research 148 (1-3), 2013, 105-110


REFERENCES
Ελληνικη Ψυχαναλυτικη Εταιρεια (2020-12-28)
Informationszentrum für psychische Gesundheit: Kinder- und Jugendpsychiatrie (22.1.2013 - deleted)
Kontos, Jannis, et al.: Greece. In P. Kutter (ed.): Psychoanalysis International, Vol. 2: America, Asia, Australia. Further European Countries. Stuttgart-Bad Cannstatt 1995, 288-306


PHOTO: Film still from The Eighth Conference of the ΕΨΕ, Novembre 2014 (2020-12-28)

Frosso Karapanou (1909-2002)
Frosso Karapanou (or Carapanou / Carapanos) was born in Alexandria, the daughter of Gerasimos Karapanos and Hermine Mavrommatis. Her father was a mining engineer. From 1943 to 1947 she undertook a personal analysis with Andreas Embirikos, the Greek poet and pioneer of psychoanalysis. She then moved to Paris in order to train as a psychoanalyst and commenced a second analysis with René Laforgue. Simultaneously, she studied psychology at the Sorbonne (1947-1949) and attended the child analytic seminars conducted by Françoise Dolto. In 1950 she went to Geneva, where she obtained her diploma as a kindergarten teacher. She returned to Athens for family reasons. From 1955 to 1958 she established the first psychoanalytically oriented kindergarten in Greece.
Between 1951 and 1968, Frosso Karapanou regularly travelled to Paris for further psychoanalytic training, attending the courses of the Société Psychanalytique de Paris (SPP). Since the early 1960s, she was also working at the Centre of Mental Health and Research (CMHR) in Athens directed by Anna Potamianou, where she headed a specialised unit of psychoanalytic psychotherapy established in 1965. After the coup d'état by the military junta in 1967, Frosso Karapanou stayed in Paris. Supervised by Georges Devereux, she graduated as a PhD with an ethno psychiatric study on obesity (1975). In 1968 she applied to the Institute of the SPP to be accepted as a candidate and thus finish her training. The SPP, however, insisted upon a new analysis, which she underwent with Denise Braunschweig in the years of 1969 to 1973. Family reasons forced her to return to Athens in 1973. Ten years later, in 1983, she became a member of the Hellenic Psychoanalytic Study Group, founded in 1982 and recognised the same year by the International Psychoanalytical Association.
SELECTED WORKS
Η πρωιμη μητρικη αποστερηση [Early lack of maternal care]. Encephalos 3, 1952/53, 68-80 + ΕΚ ΤΩΝ ΥΣΤΕΡΩΝ 7 (Juni) 2002
La consultation psychiatrique du Centre d'hygiène mentale et de recherches. Athen 1965
Réflexion sur le Centre Etienne Marcel. Le Coq-Héron Nr. 7, 1970, 13-16
Approche ethnopsychiatrique d'un cas d'obésité réactionelle. Phil. Diss. Paris 1975
Το ανδρικο "φιλοτιμο" και η γυναικεια "εξαρτηση" [Male "pride" and female "dependence"]. Επιστημονικη Επετηρις 7 (1), 1979
Identité et identification dans la nouvelle de J. Joyce "Un petit nuage". RFP 48 (2), 1984, 581-600
Πρωταρχικος ναρκισσισμος [Primary narcissism]. In: IXNH [Tribute - 50 Years After the Death of Freud. Texts from Greek and French Psychoanalysts]. Athen 1992
(and Anna Potamianou) Genèse et évolution de deux fantasmes au cours de la thérapie d'un enfant psychotique. Revue de Neuropsychiatrie Infantile et d'Hygiène Mentale de l'Enfance 15 (1/2), 1967, 115-133
(and Anna Potamianou) Langage, désir. In Didier Anzieu et al.: Psychanalyse et culture grecque. Paris 1980, 53-100


REFERENCES
ΕΛΙΑ - The Hellenic Literary and Historical Archive (2017-07-21)
Kontos, Jannis, et al.: Greece. In Psychoanalysis International, Vol. 2: America, Asia, Australia. Further European Countries. Stuttgart-Bad Cannstatt 1995, 288-306
Vlahaki, Irini: From insanity to mental health - the novelty of the Hellenic Mental Health Center. Ι.Ψ.Υ.Π.Ε. - Mental Health Institute for Children and Adults (2016-04-27)

Anna Potamianou née Pipineli
Anna Pipineli-Potamianou graduated in 1958 from the Philosophical School of Athens, with a PhD thesis on the causes of anti-social behaviour. Subsequenly she studied psychology at the Sorbonne in Paris, where she worked at L'Hôpital des Enfants Malades, alongside with the French psychoanalysts Serge Lebovici and René Diatkine. Impressed by the psychiatric reformation movement in France, Anna Potamianou founded in 1956 the Centre of Mental Health and Research (CMHR) in Athens - the first official effort to implement psychiatric reformation in Greece. From 1957 to 1967, she was Scientific Director at the CMHR. After the coup d'état by the military junta in 1967, the CMHR was placed under state supervision and Anna Potamianou resigned.
She went to Paris to train as a psychoanalyst at the Institute of the Société Psychanalytique de Paris (SPP). In 1974 she became a member, and in 1980 a training analyst of the SPP. When the junta fell in 1974, she returned to Greece once again as the scientific director of the CMHR, a post she held until 1978. In 1981 Anna Potamianou, Peter Hartocollis, Athéna Alexandris, Panagiotis Sakellaropoulos and Stavroula Beratis founded the Hellenic Psychoanalytic Study Group, which gained formal recognition by the IPA in 1982. In 2001 the Ελληνικη Ψυχαναλυτικη Εταιρεια (Hellenic Psychoanalytical Society) became an IPA member society. Anna Potamianou served as its president from 1998 to 2002 and belonged to the IPA board from 2005 to 2009. Besides working as a psychoanalyst in private practice, she taught at the Pantion University in Athens.
Anna Potamianou is also a member of the Paris Psychosomatic Institute (IPSO) and the Association Internationale de Psychosomatique Pierre Marty (AIPPM), and she has published widely on psychosomatic issues. In her recently published study Destins et carillons de la culpabilité she examined the question of the relationship between guilt and somatisations. Perhaps best-known is her book Hope. A Shield in the Economy of Borderline States. Based on clinical cases, literary examples and myths, Potamianou shows in this book how borderline patients use hope as a means of denying reality, preventing change and sustaining omnipotence. (Top of the article)
SELECTED WORKS (for more, see BiblioNet + Cairn.info)
Personality and group participation in Greece. Mental Health and Research Publications Nr. 24, 1965, 2-24
Problems of Mental Health in Greece of Today. Athen 1965
On ego defenses. Psa Study Child 37, 1982, 421-432
Les enfants de la folie. Violence dans les identifications. Toulouse 1984
The personal myth. Points and counterpoints. Psa Study Child 40, 1985, 285-296
Episkepsis: Pensées autour de la visite d'Anna Freud à Athènes. Rev Int Hist Psychanal 1, 1988, 247-254
Figurations du Nirvana et réaction thérapeutique négative. RFP 4, 1988, 917-935
Rêves et somatisation. Topique Nr. 45, 1990, 49-62 [Somatization and dream work. Psa Study Child 45, 1990, 273-292]
Un bouclier dans l'économie des états limites: l'espoir. Paris 1992 [Hope. A Shield in the Economy of Borderline States. London 1997]
In exile from the mother tongue. Canadian J Psychoanal 1 (2), 1993, 47-59
Réflexions sur les processus désinvestissants. Rev Fr Psychosom Nr. 5, 1994, 92-96
Processus de répétition et offrandes du moi. Paris; Lausanne 1995
En dehors du temps... dans les figures du mythe d'Hélène: brillance et éblouissement du désir. RFP 3, 1998, 947-955
De crises et de maladies. Rev Fr Psychosom Nr. 12, 1998, 7-22
Le traumatique. Répétition et élaboration. Paris 2001
Pathways of pleasure. The channel of primary anality. IJP 83, 2002, 609-621
Nachdenken über Ethik und psychoanalytische Institutionen. EPF Bulletin 57, 2003
Fixations psychiques, liages somatiques. Rev Fr Psychosom Nr. 22, 2002, 151-174 + Cairn.info
Frappes et battements d'excitation. Rev Fr Psychosom Nr. 33, 2008, 8-29 + Cairn.info
Epimythion au négatif. RFP 72 (1), 2008, 63-74 + Cairn.info
Λογος και πραξις στην ψυχαναλυση [Diskurs und Praxis in der Psychoanalyse]. Athen 2012
Destins et carillons de la culpabilité. Rev Fr Psychosom Nr. 44, 2013, 93-109
(mit Jean Guillaumin et al.) L'invention de la pulsion de mort. Paris 2000


VIDEO
Anna Potamianou: Everyday Violence. Upclose.gr (2013-01-18)


REFERENCES
Kontos, Jannis, et al.: Greece. In P. Kutter (ed.): Psychoanalysis International, Vol. 2: America, Asia, Australia. Further European Countries. Stuttgart-Bad Cannstatt 1995, 288-306
Oikonomakou, Katerina: Interview with Anna Potamianou. Eleftherotypia, 5. Juni 2010 (2013-01-18)
Sella, Olga: Interview with Anna Potamianou. Parathyri, 21.8.2011 (2013-01-18)
Vassiliadou, Maro: Interview with Anna Potamianou. Kathimerini, 1.6.2020 (2020-12-28)
Vlachakis, Irini: La tradition psychiatrique en Grèce et la transmission de la psychanalyse. Le paradigme historique du Centre d'hygiène mentale à Athènes. Topique Nr. 89 (4), 2004, 103-109 + Cairn.info (2010-02-01)
Vlahaki, Irini: From insanity to mental health - the novelty of the Hellenic Mental Health Center. Ι.Ψ.Υ.Π.Ε. - Mental Health Institute for Children and Adults (2016-04-27)


PHOTO: Panhellenic Psychological Association (2010-02-02)